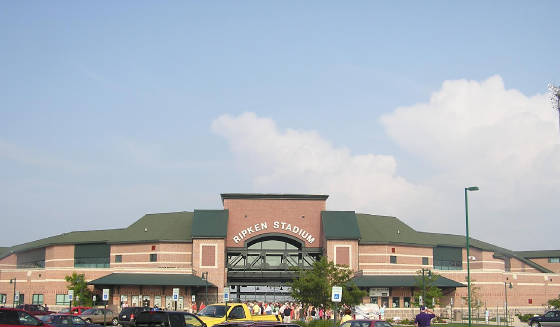 TEAM ::: ABERDEEN IRONBIRDS
LOCATION ::: ABERDEEN, MARYLAND
MY FIRST GAME ::: JULY 14, 2005
OPPONENT ::: STATEN ISLAND YANKEES
LEVEL ::: NEW YORK - PENN LEAGUE 'A'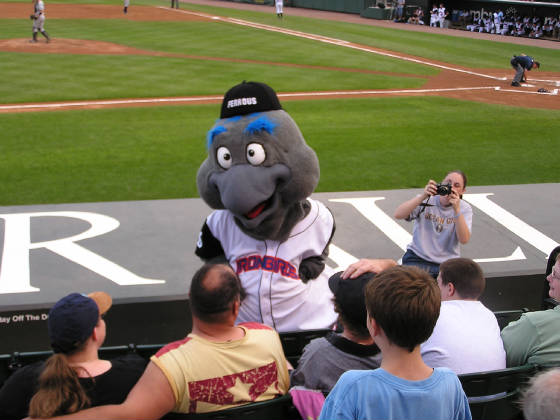 RATINGS

BALLFIELD ::: A+
SCOREBOARD ::: B
FOOD ::: B
FACILITIES ::: A+
MASCOT ::: A

MY TAKE ON THE PARK
WHEN PLAYERS TALK ABOUT "GIVING SOMETHING BACK" MANY TIMES IT SOUNDS LIKE A LOT OF TALK. I DON'T THINK ANYONE IS GIVING MORE BACK THAN CAL RIPKEN, Jr. MAKING A TRIP TO RIPKEN STADIUM YOU QUICKLY REALIZE THAT IT IS NOT JUST A STADIUM BUT A BASEBALL COMPLEX. I'VE NEVER SEEN THE LITTLE LEAGUE WORLD SERIES FIELD IN WILLIAMSPORT, PA. BUT I DO KNOW THIS, IT CANNOT LOOK BETTER THAN CAL Sr.'s FIELD IN ABERDEEN. THE FUTURE OF BASEBALL IS VERY BRIGHT IN MARYLAND AND IT IS ALL DUE TO THE RIPKEN BROTHERS, CAL AND BILL.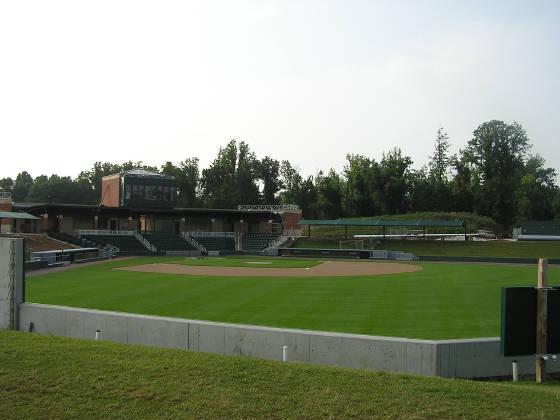 Cal Sr.'s Yard
GETTING TO RIPKEN STADIUM IS VERY EASY, IF YOU ARE DRIVING SOUTH ON I-95 YOU WILL SEE IT OFF THE INTERSTATE RIGHT BEFORE THE EXIT. I WOULD SUGGEST GETTING TO THE GAME EARLY DUE TO A SINGLE LANE ENTRANCE ROAD, TYPICAL OF THE NY - PENN LEAGUE. ONCE AT THE PARK, TAKE A WALK AROUND THE COMPLEX, SEE THE LITTLE LEAGUE FIELD, CAL Sr.'s YARD, BEHIND THE STADIUM ARE THE BATTING CAGES, THE PLAYERS ARE A LITTLE MORE REAL WHEN YOU SEE THEM IN THAT SETTING, AND DOWN THE ROAD A BIT ARE TWO PRACTICE FIELDS. ALL OF THIS ENSURES MARYLAND WILL BE REPRESENTED IN THE MAJOR LEAGUES IN THE YEARS TO COME.
ONCE THROUGH THE TURNSTILES, CAL DOES NOT DISAPPOINT. CAL MUST HAVE BEEN AS BIG A FAN AS HE WAS A PLAYER BECAUSE THIS PLACE IS REALLY DONE RIGHT. FROM THE SOFT SHELL CRABS STAND IN RIGHT FIELD TO THE LOCAL BREWS SERVED AROUND THE CONCOURSE, EVERYTHING IS CLEAN AND SPACIOUS.
THE ONLY PROBLEM MAY BE THE BOTTLE NECK THAT OCCURS AT THE ENTRANCEWAY DUE TO MANY ORGANIZATIONS THAT ARE SET UP THERE TO GREET YOU. ONCE PAST THE CROWD, YOU'LL HAVE A FREE PROGRAM IN HAND AND A LOT OF SPACE TO ROAM AROUND TO FIND YOUR SEAT.
THE STADIUM IS BROKEN DOWN INTO 2 LEVELS, THERE IS A WALKWAY IN BETWEEN THE TWO LEVELS LIKE IN DELMARVA AND BOWIE, BOTH LEVELS OFFER COMFORTABLE SEATS ANGLED TOWARDS HOME PLATE.
THE SEATING AREA SURROUNDS A PERFECT FIELD WHICH IS NOT SURPRISING CONSIDERING HOW EVERYTHING ELSE IS HERE.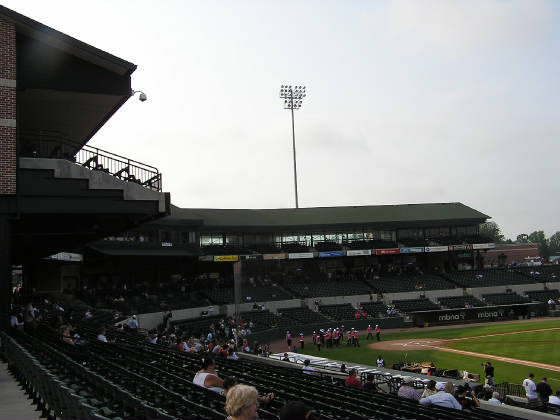 A TRIP TO ABERDEEN CANNOT BE MADE SPUR OF THE MOMENT, THE SECRET IS OUT ON THIS PLACE, IT IS A GREAT PLACE TO SEE A GAME. THE ATMOSPHERE, THE FOOD, AND THE OFF CHANCE YOU MAY EVEN SEE CAL AT THE GAME HAVE MADE THIS A TOUGH TICKET. GAMES FREQUENTLY SELL OUT SO IT IS BEST TO PLAN A TRIP TO ABERDEEN. PARKING IS FREE AND PLENTIFUL BUT THERE IS ONLY ONE WAY IN AND OUT, SO GETTING TO THE GAME EARLY IS RECOMMENDED.
WHAT IS ALSO RECOMMENDED IS A TRIP TO ABERDEEN.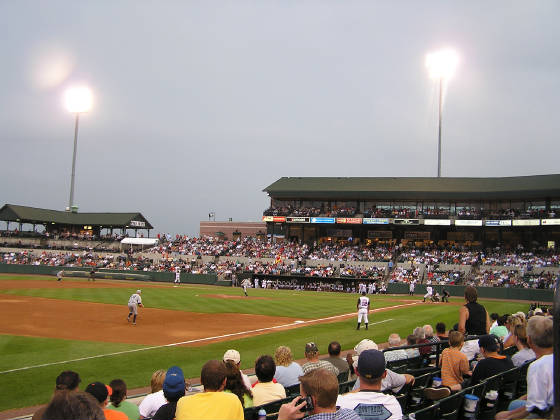 THE LINE UPS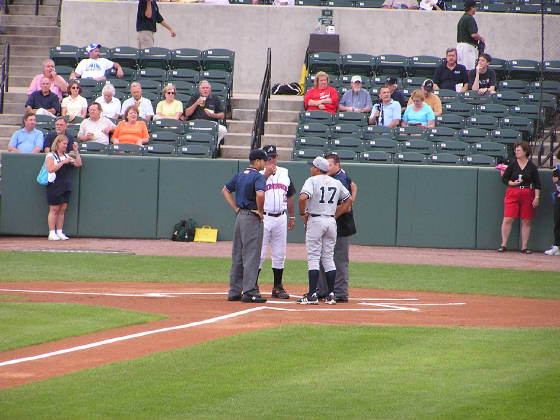 STATEN ISLAND YANKEES MANAGER :::
17 ANDY STANKIEWICZ

ABERDEEN IRONBIRDS :::
12 ANDY ETCHEBARREN
STATEN ISLAND YANKEES

6 Brett Gardner cf
11 Reggie Corona 2b
33 John Paterson dh
47 Kyle Larsen 1b
2 James Cooper lf
28 Eduardo Nunez ss
26 Joe Burke c
18 Tony Roth 3b
48 Jose Perez rf
36 Jim Conroy p / LP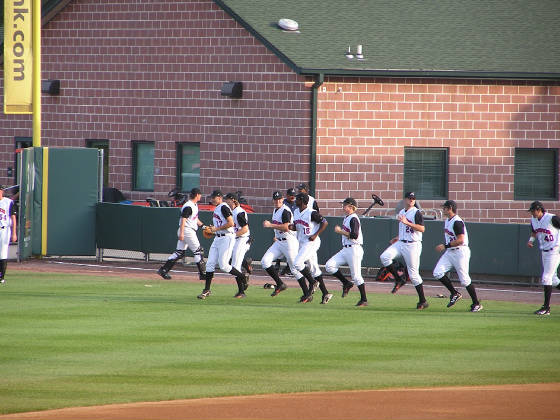 ABERDEEN IRONBIRDS

18 Zo Scott cf
1 Ryan Steinbach ss
23 Keith Reed rf
33 Nolan Reimold dh
24 Ryan Finan 1b
21 Corey Shafer lf
40 Matt Pulley 3b
17 Rob Marconi 2b
35 Kyle Dahlberg c
10 Radhames Liz p / WP
38 Garrett Olson S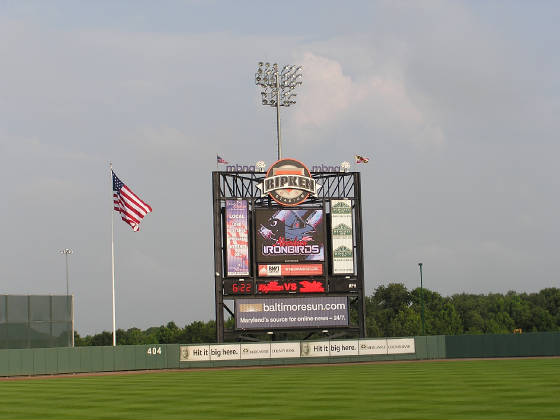 YANKEES 000 000 000 0 5 1
IRONBIRDS 100 000 00x 1 4 0

TIME ::: 2:25
ATTENDANCE ::: 6,260
WEATHER ::: 81 HUMID THREAT OF RAIN

SEND ME AN E-MAIL

LINKS
The Official site of the Aberdeen Ironbirds
What this complex is all about .. Teaching baseball .. A link to Ripken Baseball