HELLO AND WELCOME THE 2nd ANNUAL UNCLE BOB'S BALLPARKS 2005 AWARDS PAGE.
ALL THE AWARDS GIVEN ON THIS PAGE ARE FROM MY BASEBALL TRAVELS IN 2005.
THANK YOU ALL VERY MUCH FOR VISITING MY SITE OVER THE PAST YEAR, I HOPE YOU FOUND IT USEFUL AND INFORMATIVE AND I HOPE YOU WILL COME BACK AGAIN.
BEFORE I ANNOUNCE THE 2005 WINNERS, I WOULD LIKE TO PROVIDE AN UPDATE ON THE 2004 WINNERS AND WHERE THEY ARE TODAY.
THE 2004 PLAYER OF THE YEAR,
WALTER YOUNG
WALTER WAS WITH THE BOWIE BAYSOX IN 2004 WHEN HE WON THE AWARD. IN 2005 HE PLAYED WITH THE ORIOLES AAA AFFILIATE, THE OTTAWA LYNX AND IN SEPTEMBER WAS CALLED UP TO THE PARENT CLUB WHERE HE PLAYED IN HIS FIRST MAJOR LEAGUE GAME ON SEPTEMBER 6,2005 vs TORONTO. WALTER HAD HIS FIRST MAJOR LEAGUE HIT IN SEATTLE ON SEPTEMBER 10, 2005 AND A FEW DAYS LATER ON SPETEMBER 13TH IN TEXAS HE CONNECTED ON HIS FIRST MAJOR LEAGUE HOME RUN ON A 2 RUN DINGER TO STRAIGHT AWAY CENTER ON A 2-1 COUNT IN THE TOP OF THE 7TH PUTTING THE ORIOLES AHEAD 3-2.
THE 2004 RUNNER UP WAS JUSTIN MORNEAU
WHO BEGAN THE 2005 SEASON WITH THE MINNESOTA TWINS. AFTER BATTLING MANY ILLNESSES OVER THE 2004 OFFSEASON, JUSTIN DID NOT PUT UP THE SAME NUMBERS THIS YEAR AS LAST BUT SHOULD RETURN TO 1st BASE WITH THE MINNESOTA TWINS IN 2006.
THE BEST OUTFIELD ARM WINNER,
AMBRIOX CONCEPTION
WAS WITH THE HAGERSTOWN SUNS THIS YEAR AND CONTINUED HIS CLIMB IN THE NY METS MINOR LEAGUE SYSTEM.
AND NOW .... WITHOUT FURTHER ADO ....
THE 2005 AWARDS
2005 PLAYER OF THE YEAR
TONY SIPP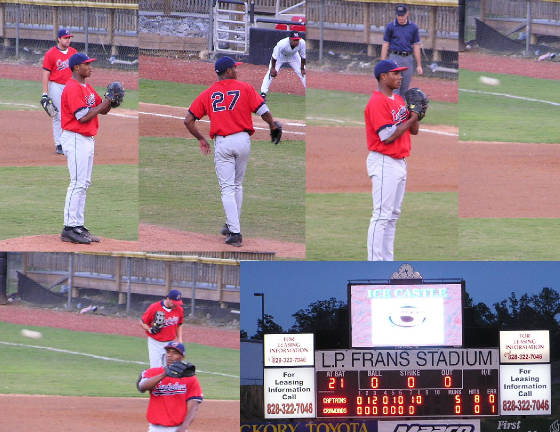 TONY SIPP - LAKE COUNTY CAPTAINS
G - 1 IP - 7 H - 0 R- 0 ER - 0 BB - 2 SO - 7 W/L - N/D
I saw Tony Sipp pitch in Hickory this year on a perfect Monday night in May. Tony pitched a No-Hitter through 7 innings when in the 8th a new pitcher was on the mound. In the bottom of the 8th when the Manager took his spot in the 3rd base coaching box a fan yelled, "You should have left him in!" To which he threw his hands in the air and nodded saying "I know". Lake County lost that game in 12 innings, but Tony Sipp was promoted to Kinston soon after I saw him and finished the 2005 season there.
PLAYER OF THE YEAR RUNNERS UP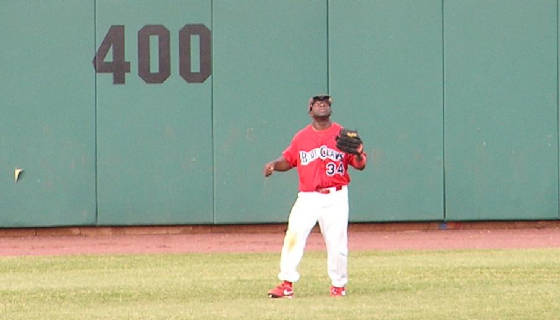 Timi Moni - Lakewood Blue Claws
GP - 2 AB - 7 H - 5 R - 4 HR - 1 RBI - 6
On a perfect June day I was fortunate enough to see Timi Moni patrol Center Field for the Lakewood Blue Claws, just as I has seen him a season before when he played for Batavia. This year, however, he caught my eye with a very productive day.
Michael Coleman - Trenton Thunder
I saw Michael in Trenton's final home game of the year. Down 2-1 in the bottom of the 9th in the Eastern League Semi-Finals, Michael hit a walk off home run to send the series to a final game in Portland. The players were seen soon after the game boarding each of there busses for the final game in Maine.
BEST SHORTSTOP
B.J. UPTON - DURHAM BULLS
Everything I heard about him came true when I watched him play, just some amazing plays at shortstop.
MY FIRST TRIPLE PLAY
May 17, 2005 Delmarva vs. Kannapolis
Bottom of the 7th .. Boomer Berry flies to Right Field,(1) Chris Kelly gets doubled off at first, (2) the first basemen then throws to the right fielder who just happens to be over by 3rd to take the throw for the 3rd out completing the Triple Play.
I GOT A BALL!
My first game this year, April 10 in Scranton / Wilkes - Barre Ron Calloway of the Norfolk Tides hit a, 0-2 pitch to my section. I got it on a bounce and was heckled for not catching.
THE PARKS
2005 BALLPARK OF THE YEAR
KAUFFMAN STADIUM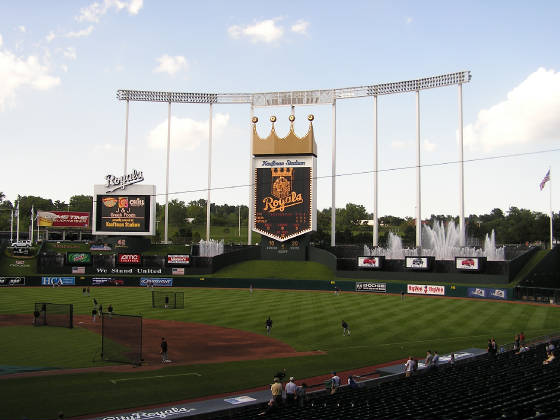 Kauffman Stadium, Kansas City Royals
The place grabs on the first view you get while traveling along I-70 and once inside it doesn't let go. From the huge parking lot to the very clean, almost shiney concourse, to the fountains the place looks as modern as it does classic. The food, the employees, the tour, it is all perfect and a must visit. Some may say it is the most Eastern West Coast Stadium, whatever you call it, it is my #1 Ballpark and my 2005 Ballpark of the Year.
RUNNERS UP
BLAIR COUNTY BALLPARK - ALTOONA CURVE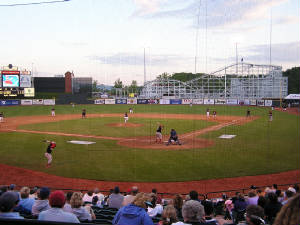 What a great place this is. The smallest market in Double A consistantly does a great job blending the game and entertainment. The atmosphere of the park is pure enjoyment, the employees go out of there way to accomodate you, and the mascot gives the best autograph I've ever received.
DURHAM BULLS ATHLETIC PARK - DURHAM BULLS
Take an old Tobacco Warehouse, make it into a Museum and then build a Stadium next to it using the same brick. Inside the Stadium make the seats wide with enough leg room for a bag and fans going to the concessions. Then, make the concessions better than good, employ people that love there job and show it.
Oh yea, then throw a huge Bull on top of a Blue Wall in left field, make the wall about 35ft high and have the bull shoot smoke through his snout. Lay a perfectly green field in front of all of this and well, you have a piece of Baseball history in Durham.
RIPKEN STADIUM - ABERDEEN IRONBIRDS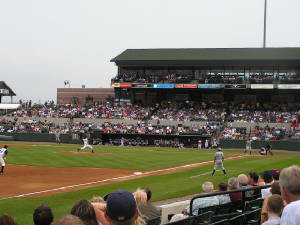 More than the park, the whole idea of the Ripken complex is why I had to include it on this page. What you have here is an idea developed by the Ripken brothers to help kids play baseball. How much greater does it get??
If that were all it would be enough, but Cal and Billy must have been a fans too because the plae is built with the fan in mind. From the large parking lot to the seats facing the pitchers mound to the local favorite soft shell crab stand in right, this place was done to benefit everyone.
BEST PARKING - - KAUFFMAN STADIUM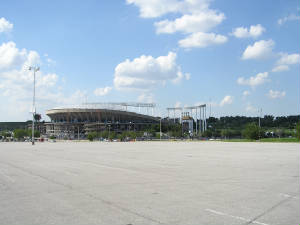 Not since Dodger Stadium have I seen so much parking devoted to a Sports Complex. There is talk in Kansas City about the Royals moving into the city .. The park is great, there is an ocean of parking, and nobody goes because the Royals stink .. Yea, they need a new park.
RUNNERS UP - - LAKEWOOD BLUE CLAWS
RIPKEN STADIUM
Both runner up parks offer a huge lot and Lakewood continues to add more parking as well as new exits .. If I miss the California parks next year and Kansas City, Lakewood will win. As for Ripken Stadium, just more of what that place does right except only one exit.
BEST ENTRANCE - - ERNIE SHORE FIELD, WINSTON-SALEM WARTHOGS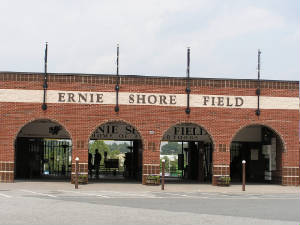 A simple a design as there is, I love it! Once inside it is very crowded behind those arches but when you arrive at the Stadium and see this, it makes the trip worth it.
RUNNERS UP :: L.P.FRANS STADIUM, HICKORY CRAWDADS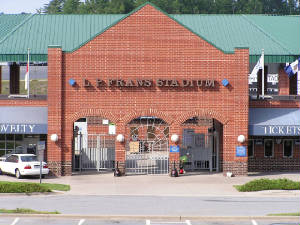 Like many of the parks in the Carolinas, Hickory also has the brick entranceway which I guess I don't see enough for it to get old.
PNC PARK, PITTSBURGH PIRATES
THE ROTUNDA ENTRANCES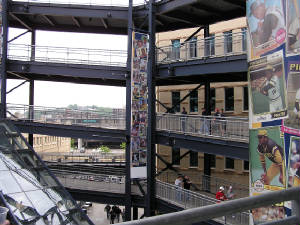 When making a trip to PNC Park in Pittsburgh, with so much to do where you enter could be an afterthought. If you don't enter via the Rotunda, make sure you exit by one .. Maybe just take a walk down one and up the other. The Pirates have done suce a great job here honoring Pirate history with Photos down one Rotunda and Pirate baseball cards down the other.
MOST COMFORTABLE SEATS - - DURHAM BULLS ATHLETIC PARK, DURHAM BULLS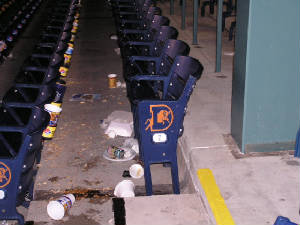 Why do some parks feel everybody is still 5ft 5 and 110 pounds?? With ticket prices what they are, shouldn't we have a wider seat with wide aisles? With many Stadiums going away from lids on sodas, the wide seating area prevents the person's soda in the center from ending up in my lap. Durham figured all of this out .. This is an end of the game picture and NOT what the seating area looks like in the 1st inning, I just couldn't believe how great the seats were and had to wait for everyone to leave to take a photo.
RUNNER UP :: RIPKEN STADIUM, ABERDEEN IRONBIRDS
Cal again shows he was a fan of the game as well, the seats are comfortable and angled towards the pitchers mound.
BEST SMELLING BALLPARK ::
NYSEG STADIUM, BINGHAMTON METS
Nothing like sitting at the ballpark and enjoying all of the smells coming up from under the grandstand. There is something cooking in Binghamton from an hour before the game starts until the middle of the game.
BEST UNIFORM :: CHICAGO WHITE SOX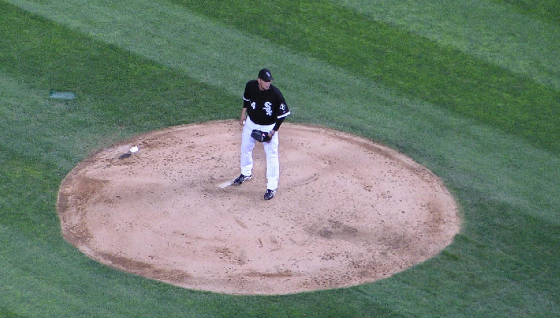 Personally, I was always a bigger fan of the White tops for the Sox but the black ones work almost as well.

RUNNERS UP :: ST. LOUIS CARDINALS, NEW YORK YANKEES, SCRANTON / WILKES - BARRE RED BARONS
BEST BALLPARK EMPLOYEES - - FIELDCREST CANNON STADIUM, KANNAPOLIS INTIMIDATORS
Southern hospitality at its finest. I've never been greeted with so many smiles by so many people at a game where the attendance was under 1000 ... I've never had it happen when it was over 1000 either.
RUNNERS UP :: KAUFFMAN STADIUM, KANSAS CITY ROYALS
The employees work in a great environment and is pays off, ushers on both levels are great.
BLAIR COUNTY BALLPARK, ALTOONA CURVE
Enough cannot be said for how great this ballpark in Altoona is, and that goes for the people that work here too.
RIPKEN STADIUM, ABERDEEN IRONBIRDS
Cal was a fan who wanted to be taken care of and thats what the fans are when they come to Aberdeen. A staff that remided me of the crew in Baltimore and that is saying something.
RUNNERS UP :: WINSTON - SALEM WARTHOGS
PORTLAND SEA DOGS
BEST PLAYING FIELD :: KNIGHTS STADIUM, CHARLOTTE KNIGHTS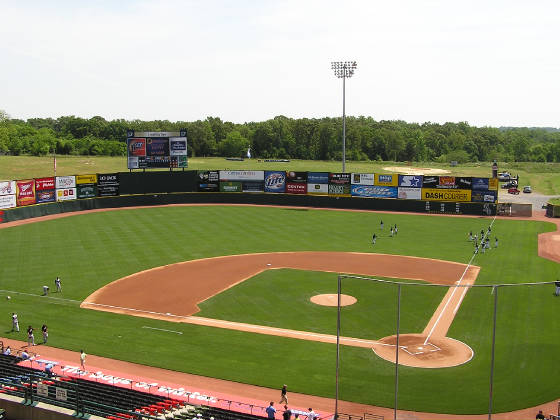 RUNNERS UP::
DURHAM BULLS ATHLETIC PARK, DURHAM BULLS
FISHER CATS BALLPARK, NEW HAMPSHIRE FISHER CATS
KAUFFMAN STADIUM, KANSAS CITY ROYALS
BEST OUTFIELD VIEW
PNC PARK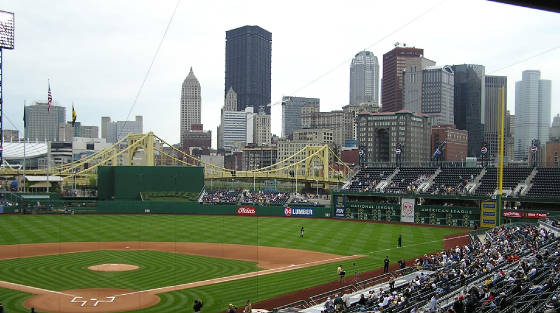 RUNNERS UP :: STATEN ISLAND YANKEES
ALTOONA CURVE
BEST SCOREBOARD :::
US CELLULAR FIELD, CHICAGO WHITE SOX
RUNNER UP : SHEA STADIUM
BEST SEATS NOT IN SEATING BOWL - - THE LIFEGUARD CHAIRS - FIRST ENERGY PARK, LAKEWOOD BLUE CLAWS
2004 BALLPARK I VISITED AND WISHED I VISITED IN 2005 BUT DIDN'T
ORIOLE PARK @ CAMDEN YARDS
I think for only the second year since it opened I didn't make it to Baltimore this year. I really missed it.
SALEM MEMORIAL STADIUM
Filled with very nice people and a spectacular outfield view, "The most scenic ballpark in the Carolina League"
CITIZENS BANK PARK, PHILADELIPHIA
I made it there in its first year and I had a rain delay, I wanted to take in a game here when the weather was right.
BEST BALLPARK HOT DOG - - KAUFFMAN STADIUM, KANSAS CITY ROYALS
RUNNER UP :: BUSCH STADIUM, St. LOUIS CARDNIALS (and only a runner up because it was served on a bun that couldn't hold the hot dog)
BEST OTHER BALLPARK FOOD
DURHAM BULLS ATHLETIC PARK, DURHAM BULLS, DILLARD'S BARBECUE STAND, THE BARBECUE SANDWICH
RUNNER UP ::: ELFSTROM STADIUM, KANE COUNTY COUGARS
WHAT A CONDIMENT STAND!!
BEST BATHROOMS ::
No clear cut winner this year .. I guess it depends if you like stalls or troughs .. I made a trip to at least one bathroom on every visit to a park this year and found all to be adequate.
BEST WAVE :: NYSEG STADIUM , BINGHAMTON METS
Let me go on record in saying I don't participate in the wave, I have my scorecard in hand and I'm watching the game. That being said, the one thing to see in Binghamton is the fans do the wave .. It can't be reheresed but they announce the wave and the say "Now in fast forward" .. The wave speeds around the seating bowl ... Lots of fun!
MASCOTS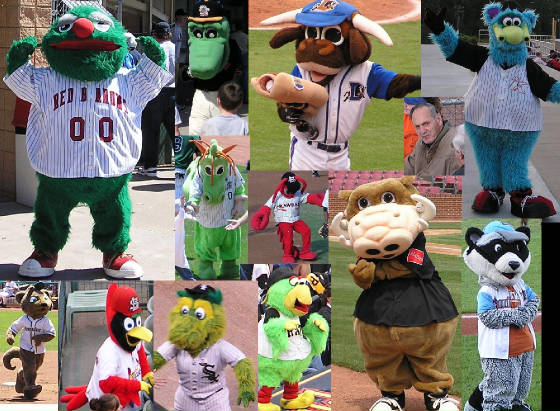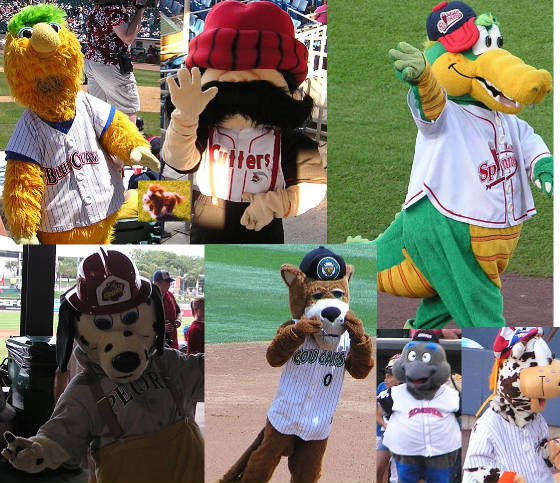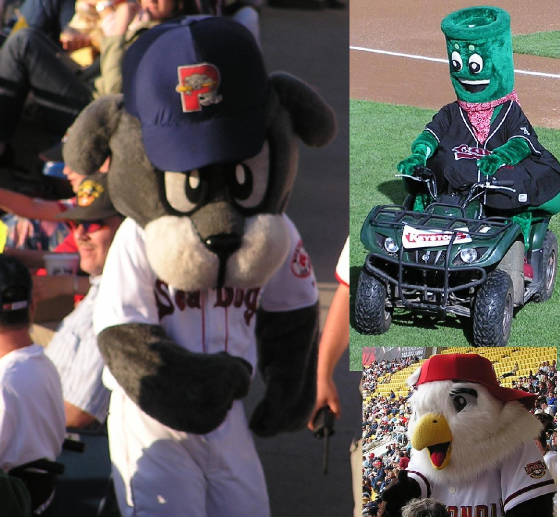 2005 MASCOT of the YEAR
SLUGGER, THE PORTLAND SEA DOGS
Without question the hardest working mascot .. Slugger is constantly running all over the park before and during the game. He is a lot fun for everyone in the park.
RUNNERS UP :: STEAMER, ALTOONA CURVE
The autograph I received from Steamer was a portrait of himself. Just another piece of the Altoona puzzle that makes it a great place to see a game.
SCREECH, WASHINGTON NATIONALS
He was in the upper deck at the beginning of the game .. Major League mascots aren't usually found there.
THE AREA
BEST BASEBALL RELATED SIDE TRIP :: A MUST SEE STOP IF YOU ARE DRIVING THROUGH IOWA,
THE "FIELD of DREAMS" MOVIE SITE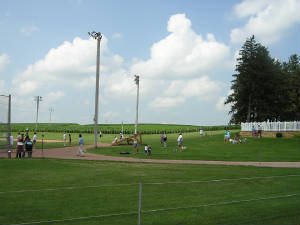 BEST NON-BASEBALL RELATED SIDE TRIP :::
THE WORLD'S LARGEST CATSUP BOTTLE, COLLINSVILLE, ILLINOIS
RUNNERS UP :: MT. AIRY, NORTH CAROLINA .. THE BIRTHPLACE OF ANDY GRIFFITH
A DRIVE ON THE BLUE RIDGE PARKWAY, NORTH OF Mt. AIRY, NC INTO VIRGINIA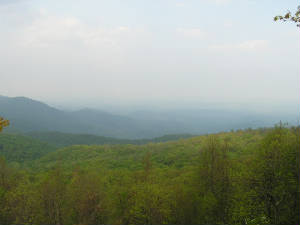 BEST PLACE TO STAY ::: HOLIDAY INN EXPRESS, CONCORD, NORTH CAROLINA
BEST CASINO :: MOHEGAN SUN, UNCASVILLE, CONNECTICUT
BEST PLACES TO EAT BEFORE OR AFTER THE GAME
BEST BARBEQUE :: THE LEXINGTON BARBEQUE, LEXINGTON, NORTH CAROLINA
BEST HOT DOG :: THE SUPER DUPER WEENIE, FAIRFIELD, CONNECTICUT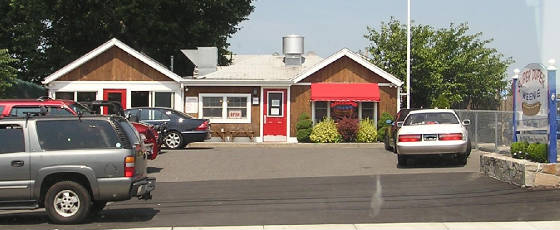 BEST HAMBURGER / ICE CREAM PLACE :: THE CHARCOAL PIT, WILMINGTON, DELAWARE
BEST CHEESESTEAK :: GENO'S, PHILADELPHIA
BEST HORSESHOE SANDWICH :: D'ARCY PINT, SPRINGFIELD, ILLINOIS
BEST DINER :: THE MAINE DINER, WELLS, MAINE
BEST COFFEE :: DUNKIN DONUTS, EVERYWHERE
BEST LOCAL SODA ::: 'CHEERWINE' .. NORTH CAROLINA AREA
STATES
CHEAPEST GAS ::
NEW JERSEY / VIRGINIA - -
While driving south, fill up in New Jersey and then when you enter Virginia .. When you are about at the end of the state, fill up again. North Carolina and Maryland have gas prices sometimes 25 cents more than Virginia. New York is the same so fill up in New Jersey!
PLANNING FOR THE GAME
BEST BASEBALL NEWS SOURCE :::
www.mlb.com
www.minorleaguebaseball.com
Live updates of all games .. No outside source is better than the homes of Major and Minor League Baseball

BEST TRIP GUIDE :::
www.minortrips.com
15 years of not taking a trip without it .. The must have guide to all of the Minor Leagues.

BEST DIRECTIONS :::
www.randmcnally.com
The Rand McNally Road Atlas
No trip should be planned without my trustworthy co-pilot ... This site not only takes you from Point A to Point B ... But it allows you to go from point to point to point and then back home. It also allows you to make 10 stops between your starting and finishing point. Please remember that no online direction site is 100% .. I found out the hard way that if your destination is Smyth Street and the hotel calls it Smyth St. then Rand McNally may not know the hotel called its driveway a street and take you to Smith St. Mapquest did the exact same thing.

BEST WEATHER SITE :::
www.weather.com
All of my sites have links to the weather sites of the cities the parks are located ... Just enter the zip code or city and you can acess the weather by day / night or by the hour. Clear and accurate or as accurate as the Weatherman can be.

BEST TEAM TICKET SITE :::
Last year I praised the Staten Island Yankee site for allowing you to choose your seat in the section you desire. This year I found that feature on the Lowell Spinners site. Still a great feature!

SITES / BOOKS TO LOOK AT IN PREPARING A TRIP
www.roadfood.com
Roadfood the book
Looking for a place to eat? This book finds those out of the way places that serve real good food .. The site is organized by state, cuisine, and others reviews.

www.roadtripusa.com
Road Trip USA
Looking for something out of the ordinary on your trip?? This book will most likely have something for you. James Jensen has traveled throughout the country and has found some pretty interesting stuff.
SEND ME AN E-MAIL
Please drop me a line to let me know if you think differently or agree with my awards page. Again, thank you all who have visited and e-mailed. I do enjoy hearing from you.

LINKS